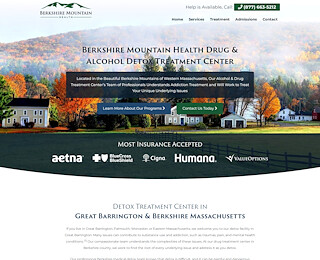 Welcome to Berkshire Mountain Health, your trusted partner in alcohol rehab in Massachusetts. We are a dedicated team of professionals committed to providing compassionate, evidence-based care to help individuals struggling with alcohol addiction achieve lasting recovery.
Our comprehensive alcohol rehab program includes drug and alcohol detox treatment center, inpatient drug and alcohol rehab, dual diagnosis treatment, group therapy, aftercare planning, medical services, and individual therapy. In this article, we will discuss the top 10 benefits of alcohol rehab and why you should choose us for your alcohol rehab needs.
10 Benefits of Alcohol Rehab
Safe and comfortable detox: Alcohol rehab programs provide a safe and supervised environment to manage withdrawal symptoms and prevent potentially life-threatening complications.
Comprehensive treatment: Alcohol rehab programs offer a range of services to address the physical, emotional, and mental aspects of addiction, including counseling, therapy, and medical services.
Addressing underlying issues: Alcohol rehab programs help identify and address any underlying issues that may be contributing to your addiction, such as trauma or mental health disorders.
Developing coping skills: Alcohol rehab programs teach you healthy coping skills to manage triggers and stressors that can lead to relapse.
Support and guidance: Alcohol rehab programs provide support and guidance from a team of professionals who understand addiction and are dedicated to helping you achieve lasting recovery.
Group therapy: Alcohol rehab programs offer group therapy sessions that provide a supportive and empathetic environment to share experiences and learn from others.
Individual therapy: Alcohol rehab programs offer one-on-one therapy sessions to address specific issues and develop personalized treatment plans.
Aftercare planning: Alcohol rehab programs provide aftercare planning to help you develop a plan for continuing your recovery after completing treatment.
Building a sober support network: Alcohol rehab programs help you connect with others who are also in recovery, providing a sober support network that can help you stay on track.
Improved overall health: Alcohol rehab programs can improve your overall health by addressing any physical or mental health issues related to your addiction and providing education on healthy living.
Why Choose Us for Alcohol Rehab
At Berkshire Mountain Health, we understand that every individual's journey to recovery is unique. That's why we offer personalized, evidence-based treatment programs tailored to meet your specific needs. Here are some reasons why you should choose us for your alcohol rehab needs:
Experienced and compassionate team: Our team of professionals has years of experience in addiction treatment and is dedicated to providing compassionate care to every person who seeks our help.
Comprehensive approach: We offer a comprehensive approach to alcohol rehab, including medical services, individual therapy, group therapy, and aftercare planning, to address every aspect of your addiction.
Evidence-based care: Our treatment programs are based on the latest research and best practices in addiction treatment to ensure the most effective and safe care possible.
Comfortable and supportive environment: We provide a comfortable and supportive environment to make your recovery journey as stress-free and comfortable as possible.
Personalized treatment plans: We develop personalized treatment plans that are tailored to meet your specific needs and goals.
Continuing care: We provide aftercare planning and support to ensure that you have the resources you need to maintain lasting recovery.
Contact Berkshire Mountain Health for the Best Alcohol Rehab in MA
If you or a loved one is struggling with alcohol addiction, don't hesitate to reach out for help. At Berkshire Mountain Health, we offer a comprehensive and personalized approach to alcohol rehab that can help you achieve lasting recovery. Contact us today at 877-663-5212 to learn more about our alcohol rehab programs and take the first step towards a better life.
Berkshire Mountain Health
(413) 259-0341
446 Monterey Road
Great Barrington MA 01230 US